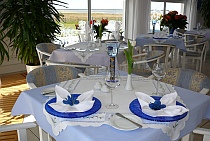 Restaurant - vide info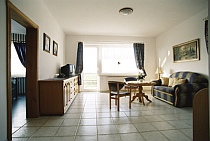 Apartments & rooms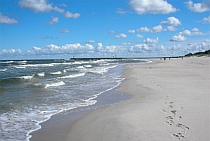 Beaches
Are you ready for a vision of a unique holiday for you and your family?
Comfortable residence overlooking the lake Łebsko.

Why are willing to spend a holiday in Residence on Lake Łebsko?
BECAUSE:



At your disposal we are providing 9 comfortable apartments and 7 double rooms (incl. breakfast). All of them are equipped with bathrooms, kitchenettes, satellite-tv, phones, free WiFi internet , safes and wonderful views of moving dunes.



In our bar we offer cold/hot drinks and draft beer as well as other alcohols.



For those more active and outdoor oriented we prepared bicycles and various lake water craft equipment.



Sunbathers and beachgoers will enjoy swimming areas, gangway, pier and golden beaches in Łeba.



For cars owners we assure safe parking place.



All enthusiastic anglers may purchase fishing permits for both the Baltic Sea and Łebsko Lake fishing areas. Organized trips may be arranged.


Rezydencja nad Jez. Lebsko in Leba, Hotel Ostsee Danzig Pommern, Ferienhaus Polen
Quick Contact
Residence on Lake Shore Lebsko,
Zarnowska POLAND
ul. Jeziorna 21A, 84-360 Leba
tel . +48 59 866 28 29
fax +48 59 866 28 26
e-mail: rezydencja@gromowska.pl